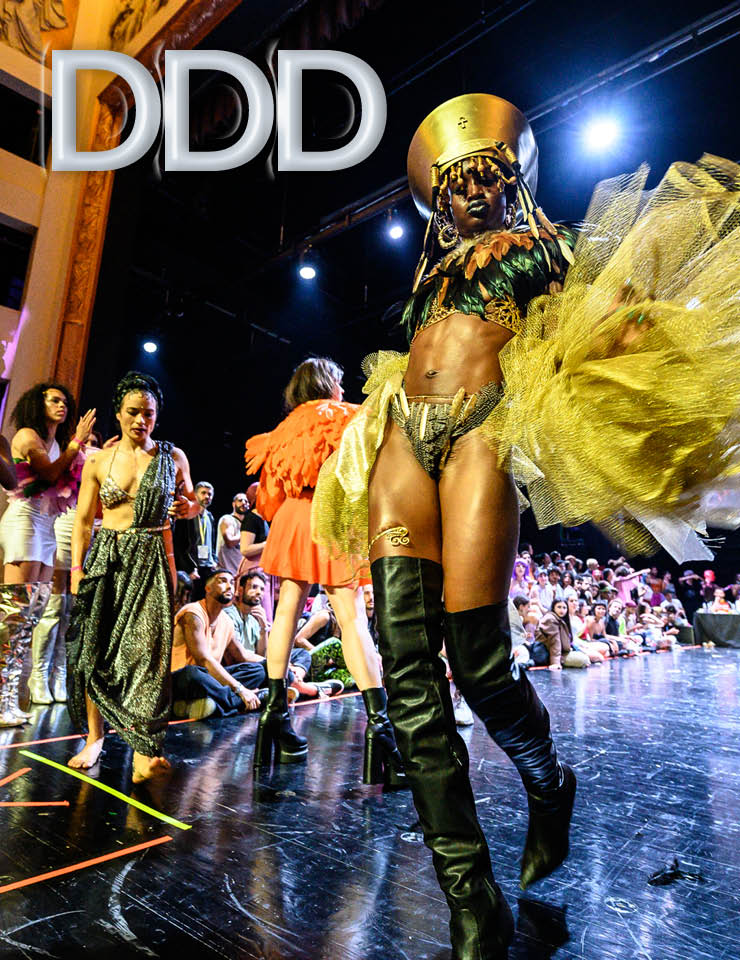 Vogue PT Chapter – Festival DDD
DDD 2023
Mother Nala Revlon & Piny 007 / Vogue PT Chapter

Art Liberates Ball

Com o objetivo de continuar a desenvolver a comunidade Ballroom no Porto e a sua presença no circuito internacional, o DDD junta-se de novo ao Vogue PT Chapter na organização de mais um major ball – Art Liberates Ball – no Coliseu Porto Ageas, e com a terceira parte do Vogue WK Porto.
Celebramos a arte como uma das maiores formas de liberdade, de expressão, de criação e de resistência. Celebramos também es artistas que dão forma a sonhos e visões. O Ball é uma celebração da beleza e da criatividade, um espaço onde seguimos honrando as raízes da nossa comunidade. Assim, damos vida a artistas e à sua arte, transformamo-la no nosso próprio discurso e corpo, para podermos continuar a criar e a reivindicar espaços com menos limites. — Mother Nala Revlon & Piny 007
//
To continue the development of Porto's Ballroom community's and its presence on the international circuit, DDD and Vogue PT Chapter come together once again for the organization of another major ball – Art Liberates Ball – at Coliseu Porto Ageas, and with the third part of Vogue WK Porto.
We celebrate art as one of the greatest forms of freedom, expression, creation and resistance. We also celebrate artists who shape dreams and visions. The Ball is a celebration of beauty and creativity, a space where we continue to honor the roots of our community. Thus, we give life to artists and their art, transform it into our own discourse and body, so that we can continue to create and claim spaces with less limitations. — Mother Nala Revlon & Piny 007
Categorias:
Best Dressed
OTA European Runway
OTA American Runway
OTA Virgin Runway
Designer's Delight
FF Body
MF Body
NB Face
MF Face
DQ Face
FF Sex Siren
MF Sex Siren
Performance: Butch Vogue Fem; FF Performance; Baby Vogue; Twister; Baby New Way vs Baby Old Way; OTA Old Way; OTA New Way; Hands Performance; Arms control
Realness: FQ; School boy; Pretty Boy; TransMan; Thug; Executive.
Lip Sync
Bizarre
Commentator vs Commentator
Ficha técnica:
Júri
Oversea Sophie Yukiko Saint Laurent
Godfather Coddy West
Legend Asia 007
Oversea Jay Jay Revlon
European Father Kendrick Mugler
Godmother Habibitch Gorgeous Gucci
Legend Kennedy Garçon
DJ's
DJ Angel X
Leo Soulflow
MC's
Shenron Comme de Garçon
European Father Vini Revlon
Vogue PT Chapter – Festival DDD