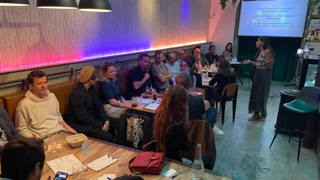 STORYTIME – Addiction @ LOOK.Sharp
STORYTIME @ LOOK.Sharp is a NEW spin on our well-loved Presentation and Discussion Wednesday Evenings! The difference is YOU! Our hosts propose a subject for discussion where our treasured guests (yes, we mean you hashtagwinkeydevilemoji) are facilitated to answer a series of deep and reaching questions on the evenings given subject… regaling to the feverishly roused crowd, the cavernous depths of your life experience.
This Weeks Subject : Addiction
Presented by : Chandni
Discussion : 20h00 – 22h00
Cafe Close : 23h00
Cost : Free
(However we do appreciate consumption to help fund the performers and our lovely team)
Our All-Day-Cafe space in Porto's Historic Centre / Downtown near Sé Cathedral / Batalha / São Bento hosts daytime and evening Discussion & Presentation events for creatives and professionals looking for a casual social space to share ideas often with wine, music and conversation. Follow our group for our unique events.
Our values here at LOOK.Sharp are about creating new connections, building globally minded communities with an eye on sustainability. Our space is truly transformational and converts to everything from the cafe, to a music, dance venue, classroom workshop space, cinema lounge and more! We are an inclusive globally minded space. Check out our instagram for the full months events as well as here on Meetup.
We are a Cafe / Retail / Casual Cowork / Event space. Our friendly staff deliver a highly personalised service and if you are coming alone, we make sure that you make new friends by facilitating introductions!
See you there!!!!
Your ethereal LOOK.Sharp Team!
xxx