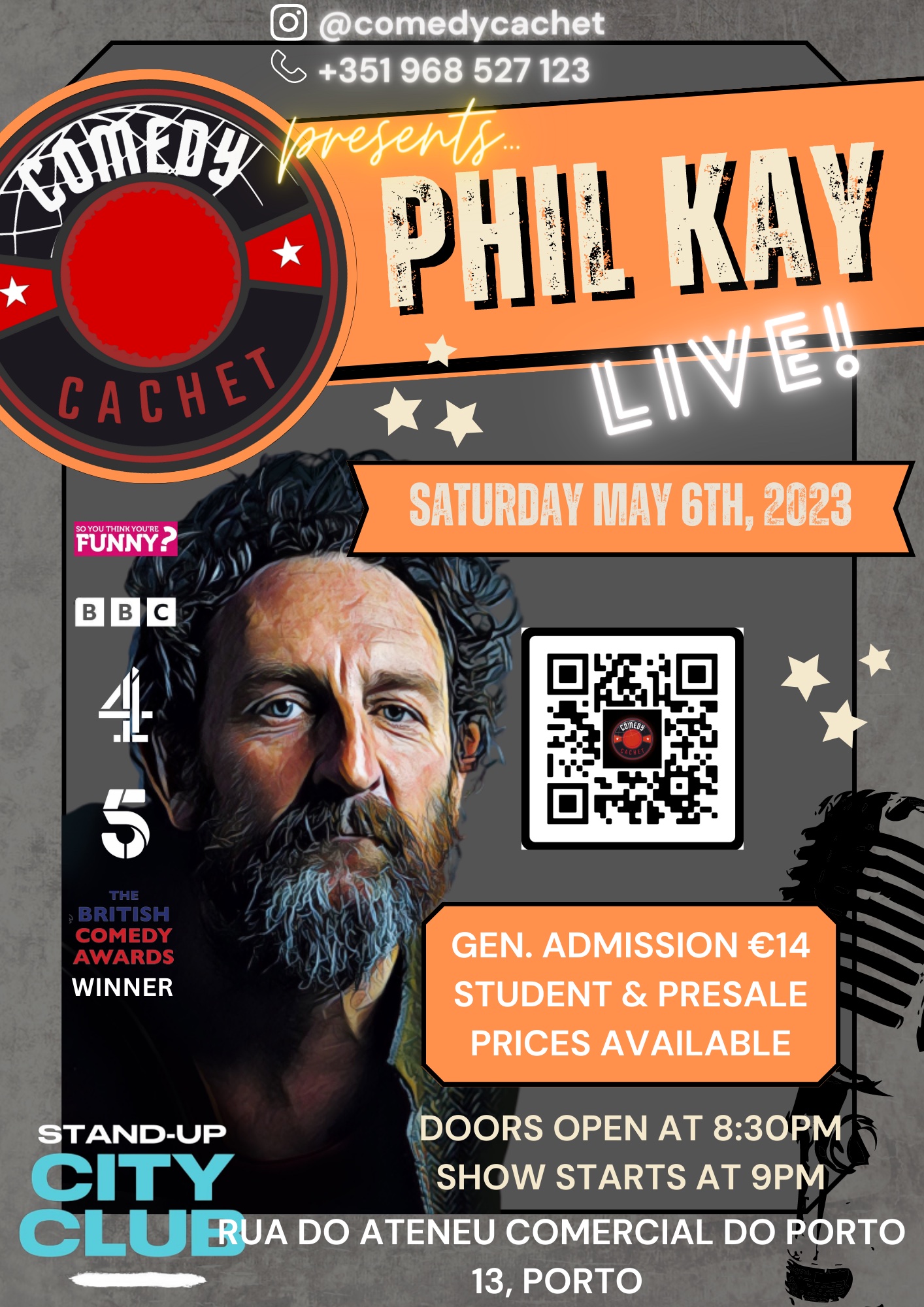 Stand Up Comedy *** PHIL KAY *** LIVE @Porto
Comedy Cachet partnered with City Club brings you Phil Kay.
A Scotland born comedian, television presenter, and writer, Phil Kay first tasted stage success when he was named the winner of the "So You Think You're Funny…" competition at the Edinburgh Fringe Festival in 1989. Also the year he started his performance career, 1989 would be the first year of many that was full of awards and recognition.
He then went on to be nominated for the prestigious Perrier Award in 1993. In 1994, Kay won the Best Stand Up Award at the British Comedy Awards.
Kay continued to work worldwide as a live stand-up, most notably on regular and very successful tours of the Adelaide Festival and Melbourne International Comedy Festival in Australia. In addition to his stage work, which continued for the next 15-plus years, Kay was well known as a presenter of his own stand-up comedy series on Channel 4 in the UK called "Phil Kay Feels…", Next Stop, Phil Kay (also on Channel 4), Edinburgh Nights (BBC1), and the Montreal Festival of Fun (Channel 5).
In conjunction with filmmaker Archie Lauchlan, he also released "That Phil Kay Video" onto the retail market in 2000. As a writer, he worked on a number of shows, and was a warm-up man for such programs as Jonathan Ross's Saturday Show, Viva Cabaret (Channel 4), The Smell of Reeves and Mortimer, Sean's Show and Harry Hill's Pilot Show.
Totally Scottish and feral, yet a global wit and erudite fellow Phil has pioneered the art of outrageous, true storytelling and being in the moment onstage.
And story's, story's, story's too: Worlds worst stage-dive… Crawling away from the Police… 'Primal Scream threatened my puppy'…
Come and hear all the best stories from very creative comedian. Still wild, so… anything could Happen… Come see a man from whom the words just flow in a bawdy stream of comic consciousness.
A rare chance to see the Scottish legend in Europe.
****** QUOTES
"A comic in touch with the deepest well-springs of his humanity.." FestMagazine
"He is fertile, feral and bursting with otherworldly energy… the gig ends with a sweaty audience tired from laughter… it's a wonderful thing to see this giant of comedy in full flight." TheScotsman
" Mesmerising headfuck Genius." TimeOut
"Phil Kay's been doing storytelling in his stand-up since before it was recognized as a sub-genre of the current scene…" The Times
"The man remains one of the most consistently brilliant and uncompromising comedians of his and future generations." The Metro
"Rare indeed is the tale of taking crack on a Megabus that manages to be both tender and hilarious. A comic in touch with the deepest wellsprings of his humanity." Jay Richardson, Fest Magazine
**********
This show will be entirely in English, so if you're an expat in Porto or a local that enjoys the language and wants to have a great time, join us for our first English Stand Up Comedy Headliner in town.
This show will sell out, so RSVP your tickets while they last or take your chances at the door. (Show your RSVP ticket stub and pay the presale price when you arrive).
Doors open at 8:30pm. Show starts at 9pm. Free after party all night @CityClub
IG: comedycachet
FB: Comedy Cachet
E-mail: [email protected]
Phone: +351 968 527 123