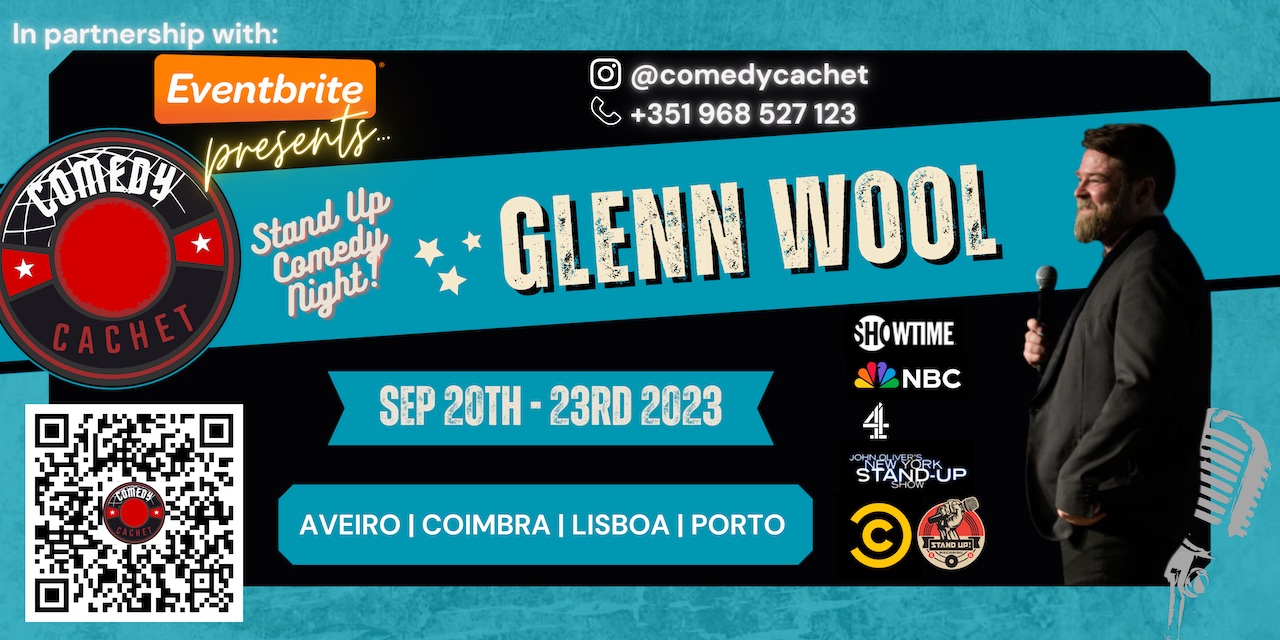 Stand Up Comedy – GLENN WOOL – Live in Porto
Wool's combination of intelligent political comedy and burly Canadian demeanor has been described as "hoser savant." He began his comedy career in Vancouver in 1995, at age 19. He moved to London at age 22, where he quickly established himself in the city's comedy scene.
He has appeared on many British comedy and panel shows, including:
– 8 Out of 10 Cats
– Russell Howard's Good News
– The John Bishop Show
– Never Mind The Buzzcocks
– 28 Acts in 28 Minutes
– Comedy Cuts
– Comedy Central UK's "The Alternative Comedy Experience"
Radio programs such as:
– Political Animal
– John Oliver's New York Stand-Up Show on Comedy Central
– Showtime's The Green Room with Paul Provenza
He is a frequent performer at large music festivals such as Glastonbury.
He has also performed more than 17 times at the Edinburgh Festival Fringe, where his shows have typically been well-reviewed. Gareth Newnham of the Weston & Somerset Mercury, reviewing Wool's Wools Gold II: The Iron Pirate, praised his "perfect comic-timing and delivery, a combination of stoner drawl and fire-brand Southern preacher which snaps back and forth at almost a drop of a hat," and Wool's "ability to take a joke and then push it to the darkest place he possibly can."
Wool also hosted the 2016 show Before the Morning After, featuring comics filmed in a diner at the 2015 Edinburgh Fringe, for the NBC streaming service Seeso.
Wool has toured the world extensively, telling one interviewer that he once circled the globe three times in two weeks, becoming so jet-lagged that he forgot what city he was in. In 2014, Wool was part of a team of comics that planned to set a world record for the world's highest stand-up concert by climbing Mount Everest, but was forced to pull out after delays.
He has toured with Doug Stanhope and appeared on Stanhope's 2017 Netflix group album/video Comedians' Comedian's Comedians, which reached No.12 on the Billboard Comedy chart
He has been a member of Canadian musical comedy group The Lumberjacks with Stuart Francis and Craig Campbell.
Wool is the voice of the title character in the Cartoon Hangover 2018 miniseries Slug Riot.
He also voiced the character Hunter in the animated Disney XD Lottie Bearshout: Good as Goaled, which won a BAFTA Children's Award.
In 2004, he wrote and starred in "What's The Story?", an episode of Channel 4
Wool co-hosts the podcast Freestyle with comedian Frankie Boyle.
**********
This show will be entirely in English, so if you're an expat in Aveiro or a local that enjoys the language and wants to have a great time, join us for our first English Stand Up Comedy Headliner in town.
This show will sell out, so get your tickets while they last or take your chances at the door. (Show your ticket QR Code when you arrive).
Doors open at 9:30pm. Show starts at 10pm. Free after party all night @Maria Pistolas
IG: comedycachet
FB: Comedy Cachet
E-mail: comedycachet@gmail.com
Phone: +351 968 527 123
Tickets: https://www.eventbrite.com/e/stand-up-comedy-glenn-wool-live-in-porto-tickets-709548587927