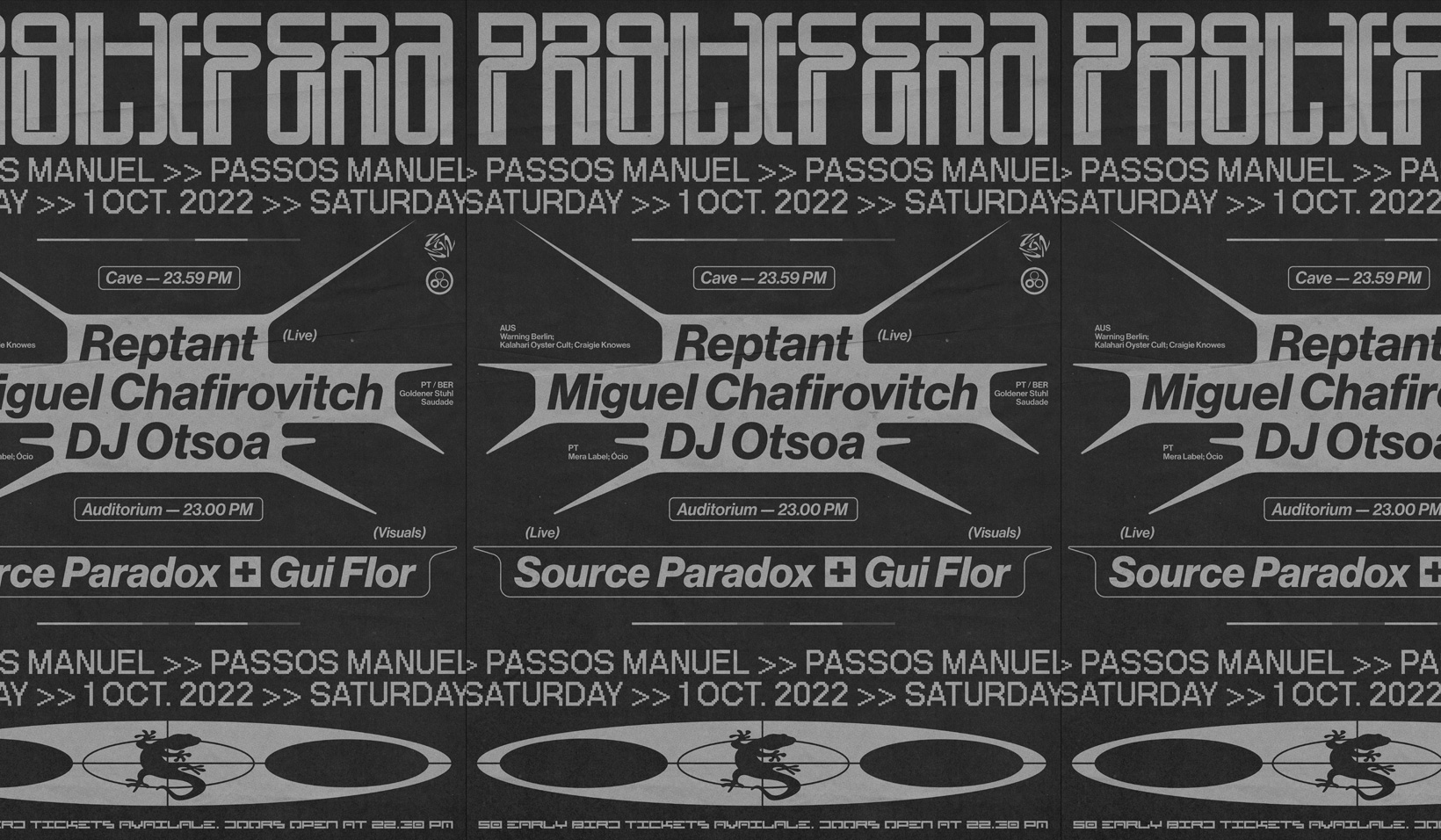 PROLIFERA #5 — Reptant, Miguel Chafirovitch, DJ Otsoa, Source Paradox, Gui Flor
#5 Prolifera at Passos Manuel �
October 1st 2022 �
Passos Manuel – Rua de Passos Manuel n137 (to the Coliseu), 4000-385 Porto, Portugal
Line-up: �
11pm
Auditorium
Source Paradox (Live)
Gui Flor (Visuals)
11:59pm
Basement
Miguel Chafirovitch (DJ) �
Reptant (Live) �
DJ Otsoa (DJ)
Tickets: � Pre-sale: 6€ � Door: 8€
50 tickets available in pre-sale at Matéria Prima, Muzak and Passos Manuel.
–
Mera Label announces the details of the fifth edition of the Prolifera party, which will take place on Saturday, October 1st, at Passos Manuel (Porto, PT). The party created by the Porto electronic music label will once again showcase a careful selection of the current electronic music scene, with performances by Reptant (AUS), Miguel Chafirovitch (PT), DJ Otsoa (PT) and an audiovisual show by Source Paradox (PT) and Gui Flor (PT).
For the first time, and contrary to what happened in previous editions, #5 Prolifera begins in the auditorium, with a live show by Source Paradox – a project of experimental and fluid electronic music by Luis Veloso aka Yuuki and Vasco Oliveira – and visuals by Gui Flor, who will use analog synthesizers for the performance.
The night in the basement opens with Miguel Chafirovitch – Berlin-based electronic music producer and DJ – with a set of experimental ambient and jazz, which will gradually move towards acid. This transition is then met by Reptant, a project by Australian Lucas J. Hatzisavas that focuses on conceptual dance music using the classic sounds of acid, electro, and techno. Closing the night is the founder and editor of Mera Label, DJ Otsoa, who brings us a set of electro, acid and breakbeat. The #5 Prolifera presents a night of electronic music that launches into an abstract and hypnotic universe and continues in hallucinogenic stimuli, in a total journey of 6 hours.
PROLIFERA #5 — Reptant, Miguel Chafirovitch, DJ Otsoa, Source Paradox, Gui Flor