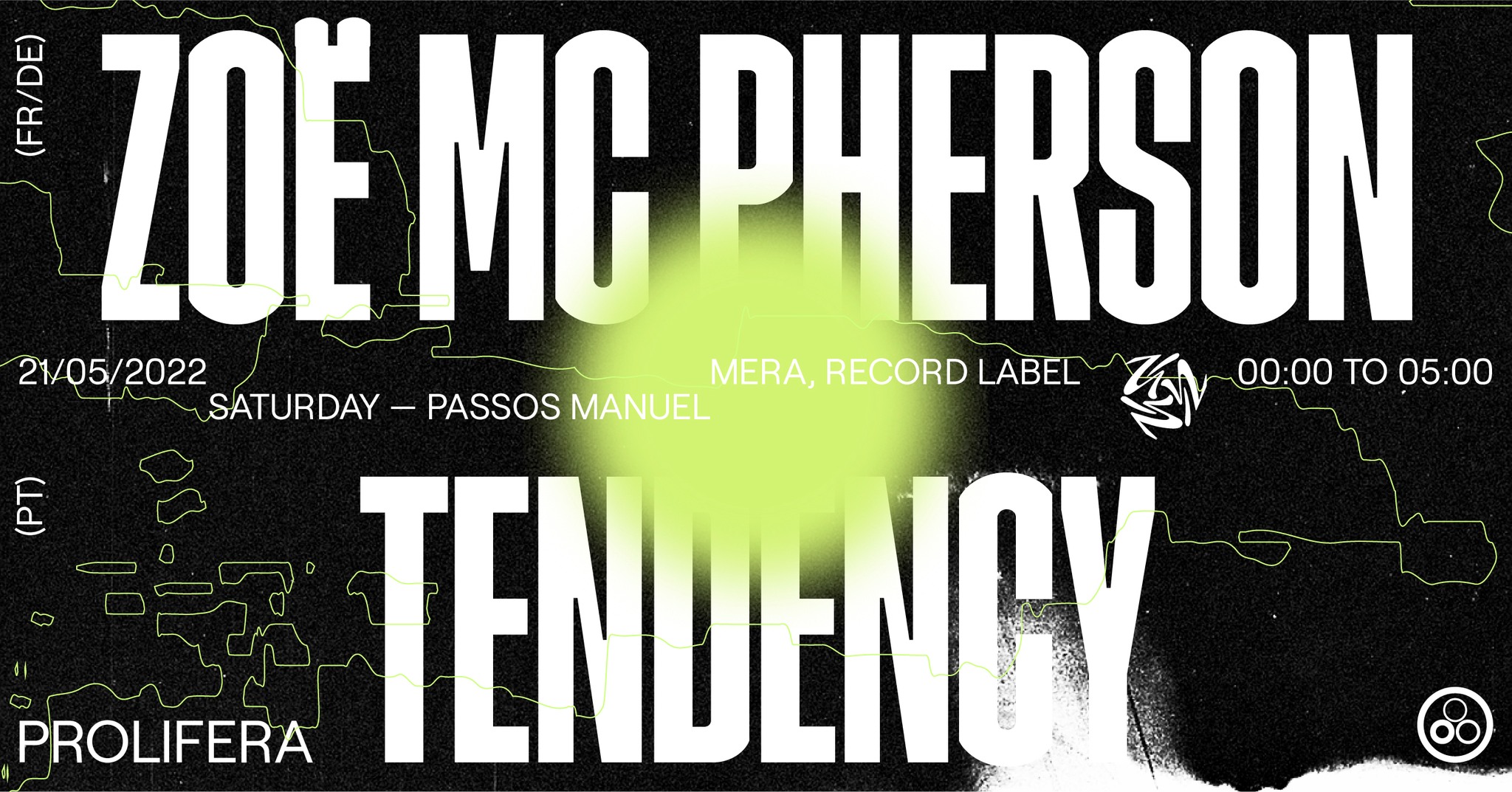 PROLIFERA #4 — Zoë Mc Pherson, Tendency
Prolifera #4
21st of May, Saturday
Passos Manuel
00:00 – 05:00
6€
—
Zoë Mc Pherson
Tendency
—
Zoë Mc Pherson
Described as a "vanguard" by British publication Mixmag, Zoë Mc Pherson is a multimedia artist whose practice absorbs elements of performance, sound design, installation art and DJing. Additionally, Mc Pherson curates the SFX label with their long-time collaborator Alessandra Leone.
It was an early passion for jazz that sparked Mc Pherson's curiosity in experimental music's rugged fringes. Soon enough, their interest led towards electronic sounds, and Mc Pherson's inquisitive ear evolved rapidly as they began experimenting with DIY recording techniques and computer software. Now based in Berlin, the French-Northern Irish musician straddles artistic disciplines – their albums, EPs and 12″s only tell part of a story that includes kinetic live shows, and lavish interactive experiences.
After releasing their immersive 2018 debut album "String Figures" on the SVS imprint, Mc Pherson released 2020's rhythmically complex "States of Fugue" – described by Berlin's Hardwax as "adventurous" – on their own SFX imprint. Since its inception in 2020, SFX has released an ongoing collaborative audiovisual composition featuring 43 artists including Aho Ssan, Katie Gately, ZULI, KMRU, and a vinyl 12″ from Klahrk amongst others. The composition, titled "XquisiteForce.AV", was presented as part of Berlin's CTM Festival in 2021 as a virtual digital exhibition, sidestepping restrictions with an innovative 3D environment.
Since then, Mc Pherson has assembled several sound installations for Berlin's Silent Green and Alhambra, performed at international festivals and venues such as Malmö's Inkonst, Madrid's LEV, Amsterdam's Fiber, Berlin's CTM and initiated a collaboration with sound artist Jessica Ekomane. The duo's jagged debut live set was filmed at Berghain Halle and broadcast by ARTE TV, and their first recording was released in 2021 on Ostgut Ton's "Fünfzehn + 1" compilation. Mc Pherson also recently embarked on an ambitious project alongside a brand new queer-owned club bULt in Almaty, Kazakhstan's largest city, to invite musicians and designers to perform and hold workshops.
This year, Mc Pherson released their new statement on Berlin's Pendulum Recordings label. Entitled "Abyss Elixir", it continues where "States of Fugue" left off, crawling out of recognizable electronic templates and dissolving sci-fi sonics in dubbed-out rhythmic vortexes.
Tendency
Tiago is a designer, electronic music producer and DJ. Owner of a strong personality and superior musical culture that is not common to find in DJ's of similar characteristics, Tiago has, in recent years, found space for his ideas and surprised the most attentive audience of the city, is a DJ by excellence of his generation and one of the last resistents to virtual technology.
With his very own and courageous vision of the dynamics and logic of the dance floor, stretching the limits of dance without losing control, Tendency continuously experiments with new forms, rhythms and conceptions with a view to a broad panel of possibilities, where the rhythmic balance of electro and techno is continued in syncopations, falls and polyrhythms of songs yet to be catalogued.
PROLIFERA #4 — Zoë Mc Pherson, Tendency