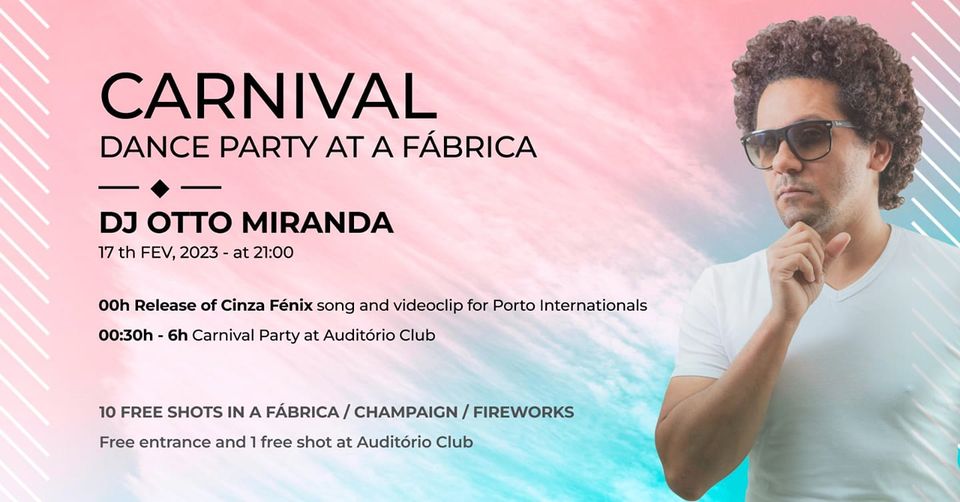 Porto Internationals Carnival Party
Porto Internationals Carnival Party
Porto Internationals Carnival Party!
Put up your best costume and join us for a wild typical Brasilian Carnival night! 
We'll have for the 1st time playing live in Porto, the big DJ Otto Miranda (35K Followers @ottomiranda, 
https://instagram.com/ottomiranda?igshid=YmMyMTA2M2Y=
), originally from São Paulo, Brazil! 
DJ Otto Miranda played alongside some of the biggest artists in Brazil, including in the same festival as Marcelo D2 and Gabriel o Pensador, in his duo: Milk & Coffee! 
Don't miss this unique opportunity of watching DJ Otto Miranda live in Portugal! Book now! Last Spots! Reservations/info WhatsApp (+351913583372) or in our chat (active link in bio)! 
https://www.instagram.com/reel/Cola7ScoWOa/?igshid=MDJmNzVkMjY=
The party starts at A Fábrica by 21h! You'll have 10 free shots, there will be champagne, snacks, and fireworks! 
By 00h the lead singer of the Portuguese Band Cinza Fénix (Mário Dias) will release their new single and videoclip dedicated to Porto Internationals! 
By 00:30h we go to Auditório Club (free entrance and 1 free shot included) the best nightclub for BRASILIAN Music in Porto! The party ends by 6am there! 
So text us on WhatsApp (+351913583372) asap to grant your spot! Don't miss this exclusive party with our community! 
*a confirmation message on WhatsApp is mandatory to attend the party
Porto Internationals Carnival Party