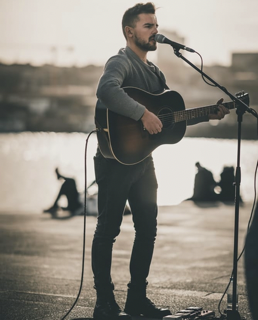 LOOK.Live @ LOOK.Sharp with ANDRÉ
ANDRÉ returns for a second time to perform in our cosy little space tonight! Join us for the Friday Night Early Evening Event whilst sampling our HEARTY WINTER MENU and HOTAILS/COCKTAILS.
Doors Open : 18h00 (Happy Hour 19h00-20h00 | 2-4-1 Long Drinks)
Music : 20h00 – 22h00
Close : 00h00
This Week : A N D R É
Genre : Acoustic with vocals
Cost : Free
However we do appreciate consumption to help fund the performers and our lovely team.
Check out our NEW HEARTY WINTER MENU to line those tummies and our BRAND NEW COSY HOTAILS before heading out to make some serious shapes on the dancefloor.
Our values here at LOOK.Sharp are about creating new connections, building globally minded communities with an eye on sustainability. Our space is truly transformational and converts to everything from the cafe, to a music, dance venue, classroom workshop space, cinema lounge and more! We are an inclusive globally minded space. Check out our instagram for the full months events as well as here on Meetup.
We are a Cafe / Retail / Casual Cowork / Event space. Our friendly staff deliver a highly personalised service and if you are coming alone, we make sure that you make new friends by facilitating introductions!
Your Devoted LOOK.Sharp Team x