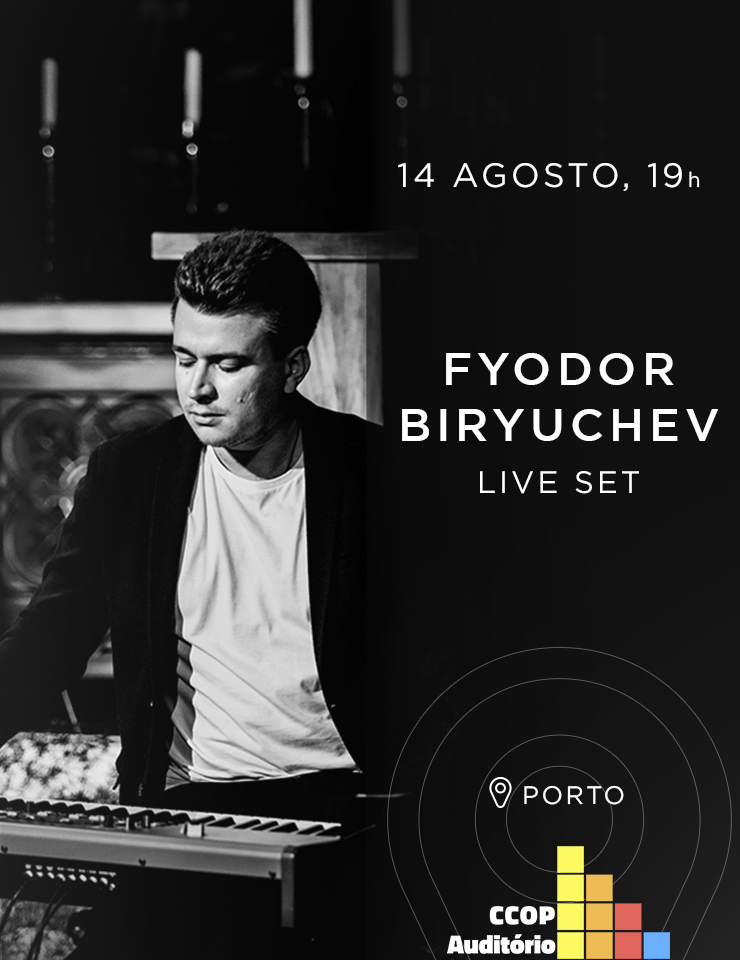 FYODOR BIRYUCHEV – LIVE SET no CCOP
FYODOR BIRYUCHEV – LIVE SET no CCOP
On August 14th, the Russian composer and pianist will present his electronic set in the Auditório CCOP in Porto. This set will include experimental recordings of prepared piano, electronics, dialogue of various synthesizers, his reinterpreted piano works, as well as compositions created in collaborations with musicians from Turkey and India, which were recorded during Fyodor Biryuchev's tours. These works explore the music of India and the East, creating portraits of Istanbul and Mumbai with use of traditional instruments, vocal, piano and electronics.
Fyodor Biryuchev strives to uncover the beauty and the inexplicable mystery of the world and shares them with people in his work. The young composer and pianist, who grew up on the Black Sea Coast, is now standing at the forefront of Russian neoclassical music. Fyodor as a classical pianist, a graduate of Moscow State Institute of Culture, and laureate of a number of international competitions and festivals, enjoys pushing boundaries with both his studio work and his live shows. Fyodor's concerts are at the same time full of vivid expressive presentation, powerful energy, and charming atmosphere. His creative style is marked by diversity, imaginative and cinematic nature. Fyodor's music resonates with the listener, it is something personal, devoid of excessive conservatism and artificial pathos.
In the course of several extended live tours with intimate concerts across Russia, Europe and Asia Fyodor Biryuchev had presented his two albums: «Breath of Love» (2016) and «By the Sea» (2017). Fyodor took on the role of the sound producer of the world's first classical opera in the immersive format – «The Queen of Spades» – working in cooperation with the New Classic Band Orchestra and singers from the Bolshoi Theatre. This project received a Russian National Award, "Onegin". In 2018 Fyodor worked with Severnaya Simfonietta Orchestra under the direction of an Italian conductor Fabio Mastrangelo. In 2019 he took part in Piano Day Festival and played concerts in Paris and Amsterdam. Also in the same year, he was invited to perform at one of the most important festivals of new music in Italy – the Kaltern Pop Festival. In 2020 in collaboration with Russian poet Eugeny Soya Fyodor released his third album «Let me be frank». The same year Fyodor played concerts in India and had the concert tour in Russia. In autumn 2020, Fyodor moved to Barcelona, where he is now continuing his studies in composition at Liceu Conservatory.
PREÇOS