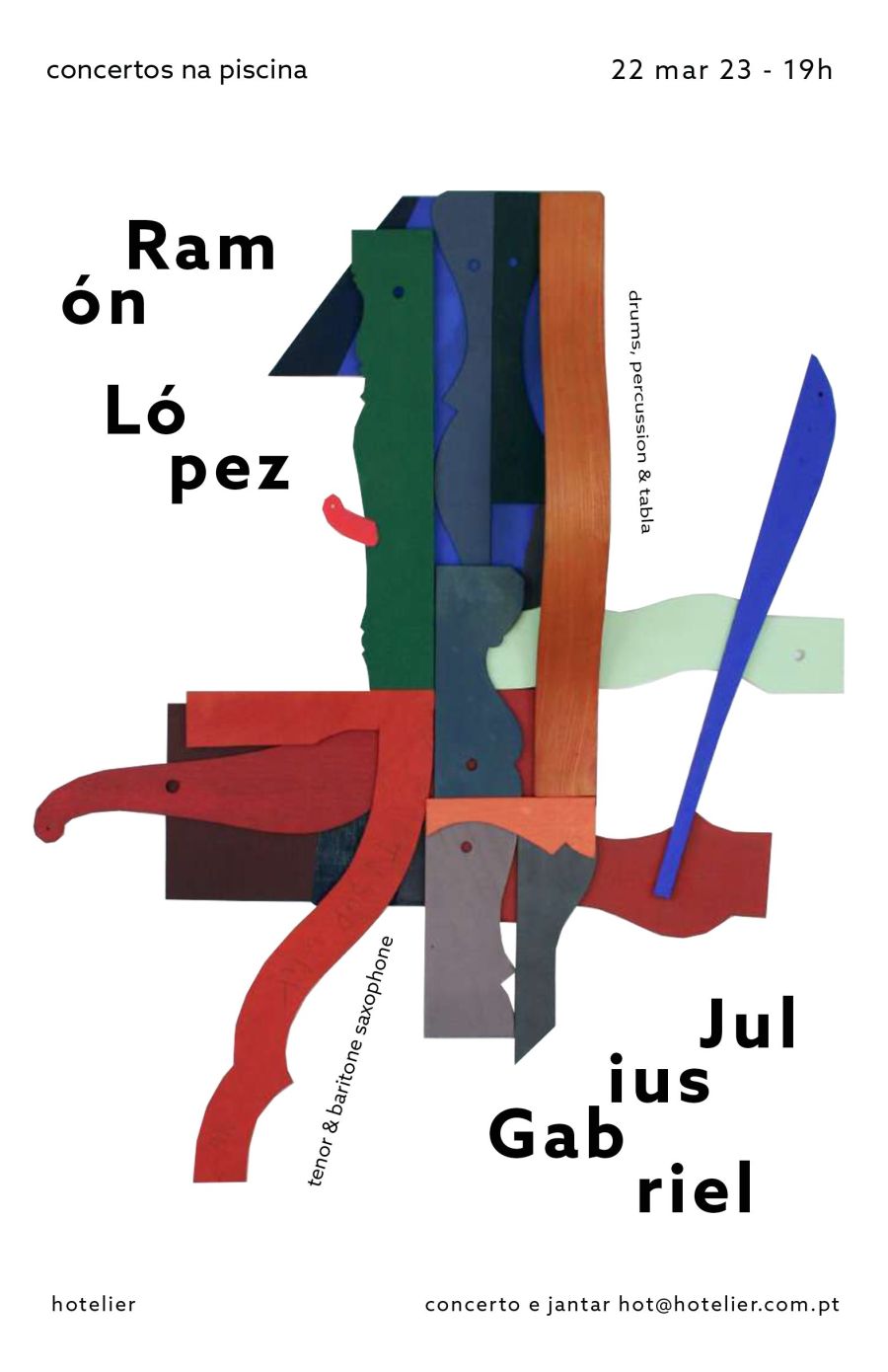 CONCERTOSNAPISCINA 33# – Ramón Lopez & Julius Gabriel
JULIUS GABRIEL is a saxophonist, performing and recording artist. His work focuses mainly on the exploration of his instruments in all their limits and dimensions, emphasising the multidimensional unfolding of sound through spatial and electro-acoustics. He is dedicated to improvisation, using extended playing techniques, self-built hybrid instruments and electronics. Born and raised in Berlin, he started his music education at the age of ten with saxophone lessons at public conservatories, later supplemented in the vibrant club culture, the underground jazz scene and with Gunter Hampel as a mentor. In 2009 he moved to Essen for the BA programme "Jazz Performing Artist" at the Folkwang University of the Arts, complemented by courses at the Institute for Computer Music and Electronic Media and ensemble projects for New Music. As his dissertation, he produced his first album in 2015 with the psychedelic noise-jazz band Blutiger Jupiter. He became a member of the sound collective The Dorf, formed the agitational disco jazz band Das Behälter and the reeds duo About Angels and Animals with Jan Klare. At workshops he met bassist and composer Barry Guy, who later on invited him to join his new 14-piece Blue Shroud Band and perform with the London Jazz Composers Orchestra. Initiated by an artist grant, he moved to Portugal in 2017, where he released his first solo album, formed the duo Paisiel with João Pais Filipe and the trio Ikizukuri with Gustavo Costa and Gonçalo Almeida. In 2021 he moved back to Berlin and, with the help of various grants, developed the ghaitophone, the twin drone saxophone and the electroacoustic percussion saxophone. In 2022, he has been artist in residence at the Indian Music Experience Museum in Bangalore. He appears on numerous albums as a solo artist, with his own bands, as a collaborator and guest musician on independent labels such as Ana Ott, Lovers & Lollypops, Rocket Recordings, Fun in the Church, Subcontinental Records, Creative Sources, Umland Records, Not Two Records, Intakt Records. He played concerts all across Europe in concert houses such as Essener Philharmonie, Casa da Música Porto, National Forum of Music Wroclaw, Philharmonie Luxembourg, Alte Oper Frankfurt, South Bank Centre London and on festivals such as Ulrichsberger Kaleidophon, Wien Modern, unerhört!,
ФУЗИОН, Moers, NOW!, Open Source, Zappanale, Keroxen, JSS Music Conference, RhythmXchange Festival, Tarcento Jazz, Rainy Days, Ad Libitum, Krakow Jazz Autumn, Jazztopad, Jazz em Agosto, Milhoes de Festa, Primavera Sounds, Sonic Blast, SWR Metalfest, Tremor, Waking Life, Zigurfest. RAMON LOPEZ was born in Alicante, (Spain) on August 6, 1961. Drums. He began playing drums in a self-taught way in the mid-seventies. In 1980, a solo Max Roach concert decisively marked his way of seeing music. He was part of local groups until he decided to settle in Paris in January 1985 where little by little he was incorporated into the French jazz scene. At the same time he became interested in Indian music and after many years of studying Tabla in France and India, he taught Indian Music classes with Patrick Moutal at the CNSMDP National Superior Conservatory of Music in Paris (1994-2001). The first album to his name, a drum solo, appeared on the British label Leo Records. His projects have always been risky, such as the one dedicated to reinterpreting themes from the Spanish Civil War (2001), his duets in tribute to Roland Kirk (2002) or his "Freedom Now Sextet" in 2010 with Herb Robertson, Ivo Perelman, Joe Morris , Agustí Fernández and Barry Guy. Between 1997 and 2000 he was the drummer of the prestigious «Orchestre National de Jazz» directed by Didier Levallet. He has collaborated on records or in concerts with Rashied Ali, Jim Baker, Conny Bauer, Majid Bekkas, Samuel Blaser, Anthony Coleman, Andrew Cyrille, Hamid Drake, Peter Evans, Agustí Fernández, Glenn Ferris, Joe Fonda, Sonny Fortune, Georges Garzone, Barry Guy, Charles Gayle, Teppo Hauta-Aho, Daniel Humair, Howard Johnson, Aly Keita, Joachim Kühn, Joelle Leandre, Jeanne Lee, George Lewis, Roscoe Mitchell, Joe Morris, Ivo Perelman, Michel Portal, Enrico Rava, Dave Rempis, Paul Rogers, Louis Sclavis, Alain Silva, Archie Shepp, John Surman, Mal Waldron, Nils Wogram and other leading figures of the Jazz avant-garde, performing in concerts and festivals all over the world. Ramón López is a singular percussionist, in whose music the knowledge of a great diversity of traditions is appreciated. He has recorded a hundred albums and is currently one of the most respected European artists in the field of contemporary jazz and improvised music. http://www.ramonlopez.net/ Contribution – 5 euros. Anyone who wants to stay for dinner (vegan) – 5 euros. Limited seating. Reservation advised.
CONCERTOSNAPISCINA 33# – Ramón Lopez & Julius Gabriel