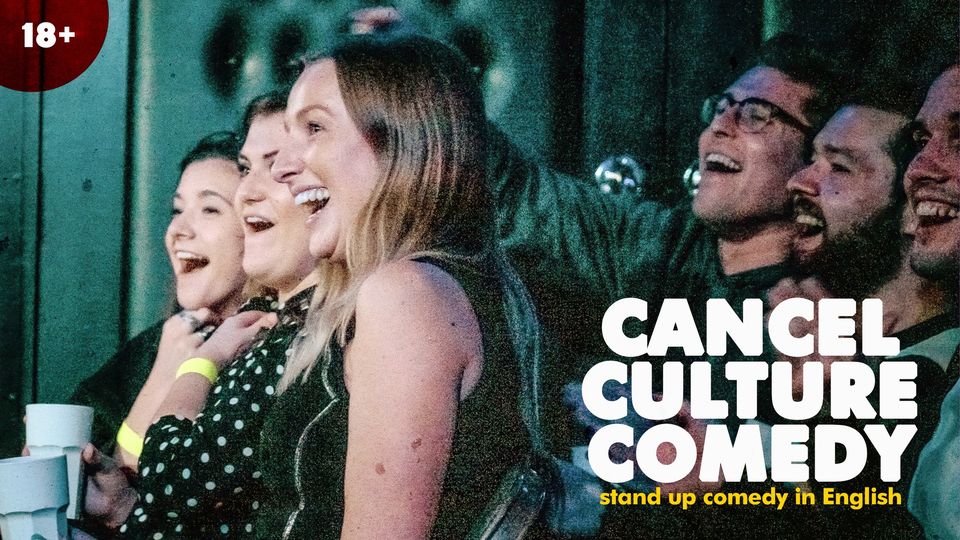 Cancel Culture Comedy • Porto • Stand up Comedy in English
This is a 'safe space' for comedy! It's our job to tell the jokes that would get you fired from your job! This show is not for the easily offended. It's comedy at its best, comedians who are unapologetically honest, woke and hilarious!
STAND-UP COMEDY in ENGLISH Friday 17th November doors 9:00 PM • showtime 9:30 PM Auditório CCOP
Tickets – https://fienta.com/cancel-culture-comedy-porto • Regular Ticket – €15 • Early Bird Ticket – €14 (Available to buy until 10th November) • Group 4+ Ticket – €12.50 • Student Ticket – €10 (Must show valid Student ID)
The show will be held entirely in English
Mike Rice • http://mikericecomedy.com/ • @mikericecomedy
Mike Rice Currently living in London. Mike regularly headlined clubs around Ireland and Europe including City Limits (Cork), The International (Dublin), and The Comedy Crunch (Dublin). Mike has performed stand-up comedy twice on Irish National television (RTE) as Part of 'The Ray Darcy Show' (Dec 2019) and 'Laughter in the Eyre' (Feb 2020), on BBC 3 (BBC New Comedy Award)(2022) and was nominated for Channel 4's Sean Lock award (2023). Mike brought four separate solo shows to the Edinburgh fringe festival in 2018, and 2019, 2022, 2023 and the Perth Fringe Festival in 2019, and 2020. He is co-host of the successful podcasts "Mike and Vittorio's guide to parenting" and "Big Mike and the Chief"
"A delightfully hilarious mix of dark, and silly humour" – Laugh factory Chicago "Rapid fire, edgey storytelling" – Perth Fringe Feed "Naturally Brillant" – The International Comedy Club
Victor Patrascan • http://victorpatrascan.com/ • @VictorPatrascan
Victor Pãtrãşcan is a pretentious stand up comedian and outrageous social commentator who was born in Romania. Since he started performing stand up comedy in 2012, he has told his jokes in front of a crowd of people in the United Kingdom, Germany, Netherlands, Austria, Turkey, Sweden, Denmark, France, Serbia, Switzerland, Finland, Belgium, Iceland, Italy, Spain, Ireland, Portugal, the Czech Republic, Gibraltar, Norway, Slovakia, Slovenia, Croatia, Poland, Latvia, Lithuania, Luxembourg, United Arab Emirates, Bulgaria, Hungary, Ukraine and Romania.
In 2022, he performed in front of over 16.000 people, in 70 cities from 27 countries on 2 continents. Since April 2021 he's been touring with his self produced stand up comedy shows in English throughout Europe.
In 2019 and 2020, he traveled through Europe with his show called "The Trouble with Being Born Romanian" in over 30 cities. During the same years, he topped the charts at No1 in the rankings of "Roast Battle London". Victor was also a special guest on the Romanian TV show iUmor where he provoked with his brash humour.
Victor is now on tour • for more information • http://victorpatrascan.com/
Cancel Culture Comedy • Porto • Stand up Comedy in English